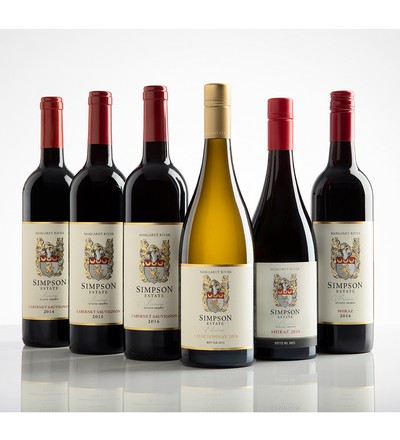 Tasting Half Dozen
Mixed Case
This is the first release of a 6 bottle mixed case, comprising 3 vintages of Cabernets, 2 Shirazes and a Chardonnay.
The specific wines are the:
2014, 2015 and 2016

Jenny

Cabernet Sauvignon
2014 and 2016

Brian

Shiraz
2018

Elaine

Chardonnay
The perfect means of achieving familiarity with more wines in the Simpson Estate range, without the need to purchase a dozen of each.
The three Jenny Cabernets exhibit the differences of the three vintages, whilst the 2014 Brian Shiraz, crafted in a Rhône style, contrasts to the typical Margaret River shiraz characteristics of the 2016 Brian. Even for red wine drinkers, the Elaine Chardonnay, our biggest selling wine, is a must.